5 Best Alternatives To Microsoft Office Suite — 2017 Edition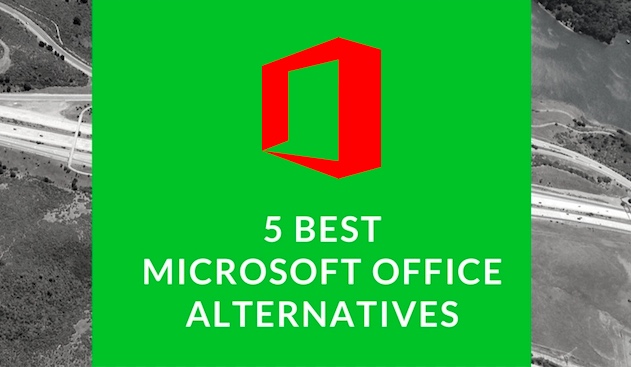 Microsoft Office has dominated the digital office suite market for a long time. They have many products with all the features anyone could ever need, but many that the average person would simply never used. Should you pay for all those features you're never going to use, or should you find yourself a free alternative to Microsoft Office? You can use other great office software like LibreOffice and Google Docs, and save lots of money.
n the world of office productivity software, no one has as large a presence as Microsoft Office. They've produced a piece of software for just about every task necessary in the modern office, short of a few niches or specializations. These MS Office pieces have got so many features nowadays that it takes weeks of classes to learn the ins and outs of a single product (
almost as many features as text editors
). Then there's the feature that most people aren't so much a fan of, the price tag. Having said that, do you wish to know some great Microsoft Office alternatives to make your tasks easier?
Some people need specific features or compatibility with other contacts, and that's understandable, it's expected to come at a price. But what about those who don't need much out of an office software? The average person, even if technically inclined, doesn't need much out of a word processor (I mean, it's not like it's a text editor or anything). So, should you pay for something that you don't need? Probably none of my business, so I'll just give you the facts to make an informed decision and select the best Microsoft Office alternative:
5 Best Alternatives To Microsoft Office
Google is known for its omnipresence in all things technology, there are few places Google hasn't touched and the office isn't one of them. Google Docs comes in both freely available and commercial offerings. While Google Docs is a fairly standard and featured limited suite, there are some very big reasons as to why you might choose it as a preferred free Microsoft Office alternative.
Google Docs is available from anywhere that has an internet connection. It supports simple export to industry standard document formats such as Microsoft 'docx', PDF, and several others. It allows the sharing of documents privately with friends, or even publicly. And in addition to the sharing, you can even invite people to edit with you in real-time collaboration. Google Docs can also be called the best cloud-based alternative of MS Office. Also, this is a very cost effective and reliable solution for students.
Why choose Google Docs?
Google Docs is undoubtedly the best and free cloud-based office software that gives close competition of Microsoft Office Online.
Supported platforms: Works on all platforms, but needs internet connection
LibreOffice was forked from OpenOffice a while back for some political reasons. Tut for all intents and purposes, they're more or less the same thing with the exception that the community followed the LibreOffice fork and OpenOffice just hasn't seen as much development since. LibreOffice is a very feature-rich MS Office alternative suite considering that it is free. In terms of cost-effectiveness, it's pretty hard to beat. It has a few quirks, like need to change the default document formats to Microsoft Office formats. But apart from that, this free office software is an excellent choice for anyone that doesn't require the bells and whistles of a commercial product.
Why Choose LibreOffice?
If you're using Linux, there are great chances that you're already using LibreOffice. If you have an extra affection for open source software and you wish to use a free office suite, LibreOffice is mean for you.
Supported platforms: Windows 10, 8, 7, and Vista, Linux, Mac OS X
For a long time, DropBox was only a place where you could store your documents. Now, with DropBox Paper, which aims to develop itself as a replacement of Microsoft Office Online and Google Docs, you can create and edit documents, collaborate with friends and colleagues, as well as enjoy many of the project management and team communication features. DropBox Paper is still in its open beta stage, so there should be many more features to come over time as it matures.
Why use DropBox Paper?
With Paper, DropBox is looking to break the shell and become more than a file storage platform. If you love a minimalistic and clean interface for collaborative editing, Paper is a great choice.
Supported platforms: Works on all platforms, but needs internet connection
Calligra Office split from KOffice in 2010, and the KOffice fizzled out shortly afterward. Calligra Office is an open source suite built upon the Qt toolkit. It has more applications than LibreOffice, but they lack much of the features of LibreOffice. If you want a simple office suite with a few extra applications like flowcharts, database management, and image manipulation, this free Microsoft Office replacement might be for you. Again, just like LibreOffice, if this is all you need, it's very cost effective.
Why Choose Calligra Office?
While LibreOffice is often the final choice of users, Calligra Office comes with more applications like one for project management.
Supported platforms: Full support for Linux and FreeBSD. Preliminary support for Windows and Mac
Apple has always been Microsoft's biggest competitor in consumer operating systems, but Apple has put generous effort into their iWork product. It's only available on Mac OS (OS X), but it is free of charge (though, not free as FOSS). Yes, it lacks many of the features of Microsoft Office, but do you need them?
iWork is capable of word processing (with an emphasis on design), spreadsheets, and presentation software. Some find iWork to be so simple that it makes you feel stupid (myself included) and it really takes some time to get used to. Despite that, this Microsoft Office replacement for Mac is still a solid suite for a small office. Given that it's only available on Macs, it is a limited contender, but not one that should be dismissed, especially given the iCloud office suite and storage.
Why Choose Apple iWork?
iWork provides many easy to use and popular features. It's simple to use without any unnecessary fuss.
Supported platforms: Mac
There are many more office applications that are capable of covering the basic user's needs. The alternative options to Microsoft Office are many and plenty. Even more when you include individual applications that aren't bundled like AbiWord and LYX.
Editor's Recommendation:
Without a doubt, LibreOffice is the perfect free Microsoft Office replacement if you don't want to opt for a cloud-based solution. It comes loaded with all necessary features that one needs to perform common tasks. If you have seamless Internet connectivity, Google Docs is a great way to create and share documents.
Did you find this article helpful? Let us know what your favorite office productivity suites (or individual applications) are in the comments section below.