Hyderabad MLA Calls P. V. Sindhu A 'Volleyball' Player And It Is A Sad Day For Sports!
Apart from the all the universal facts that are known to our race and kind, my firm belief goes and falls in the lap of the fact that P.V. Sindhu is our nation's pride. Like winning a Silver medal for Badminton in the Rio Olympics 2016 and posing as the first woman to do so wasn't enough, the shuttler is also an inspiring idol to little girls who dream to make it big someday. Hell, I'm not even a kid and just the mention of her gives me goosebumps.
But apparently, that's not enough for our lawmakers of high repute. I repeat, international recognition (Sindhu is now the 2nd Indian woman to make it to the top 5 in the World Badminton) falls flat in front of politicians who are busy 'developing' our nation. Why you ask?
Recently, at a 5k run organised at Charminar, Hyderabad, Mumtaz Ahmed Khan, the MLA of All India Majlis-e-Ittehad-ul Muslimeen (AIMIM) decided to give Sindhu a change of sports altogether.
While thanking the dignitaries on the dais with the help of Mahmood Ali, Deputy Chief Minister, Hyderabad, the MLA, said,
"WE ARE THANKFUL TO PV SINDHU, THE VOLLEYBALL PLAYER WHO HAS REPRESENTED HYDERABAD ON AN INTERNATIONAL PLATFORM."
Yes, Sindhu's parents are former volleyball players but isn't it taking it a bit too far? And it's not funny.
Sindhu on the other hand, who was taken aback after the misinterpretation, took it in a lighthearted manner and chose not to interrupt him.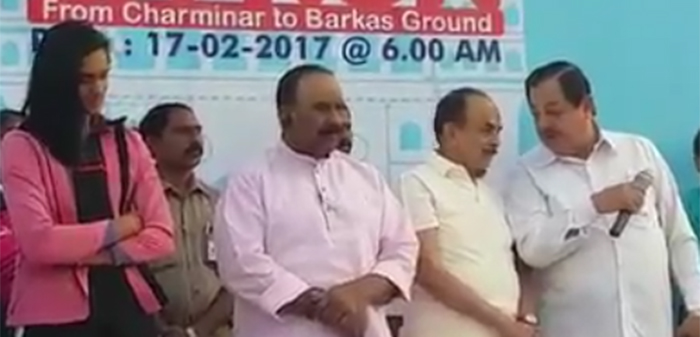 Watch the entire video here.
This just goes to show the indifference our political leaders bear in matters of sports and towards the sportsperson who brings glory to the nation.