Ramjas College ruckus: City ABVP stands by Delhi unit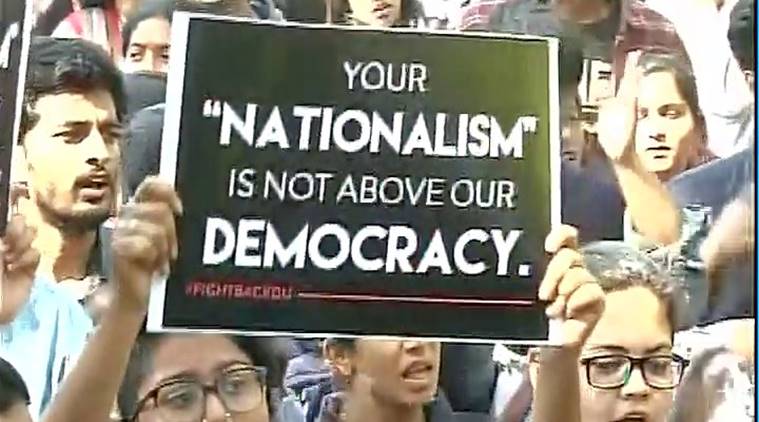 Akhil Bharatiya Vidyarthi Parishad (ABVP), Mumbai, on Saturday came out in support of their counterparts in Delhi, who are facing flak over the violence in DU-affiliated Ramjas College . ABVP, Mumbai, staged a protest at Mumbai University's Kalina campus against All India Students Association (AISA) affiliated to the Left. Ramjas students' union and ABVP workers had clashed in the north campus of DU on Wednesday. It was over participation of
Jawaharlal Nehru
University (JNU) students Umar Khalid and Shehla Rashid in a seminar scheduled at Ramjas College.
A group of ABVP students disrupted the first session of the two-day seminar on Indian tribals — a subject on which Khalid is writing his PhD thesis. The college was forced to cancel a two-day seminar on "Culture of Protest" organised by Wordcraft, Ramjas College's Literary Society after the protests started. ABVP activists allegedly resorted to violence, vandalised the college and disrupted the event even before Khalid could reach the campus. The JNU student was invited as a speaker.
WATCH VIDEO | Virender Sehwag Takes To Bat Following Delhi's Ramjas College Ruckus
Khalid, a former member of the Democratic Students Union (DSU), was arrested last year on sedition charges. The other invitee was Shehla Rashid, a former JNU students' union member who was instrumental in the movement against the arrest.
Mumbai secretary of ABVP Rohit Chandode said, "If any anti-national announcements are made in any educational institute, the ABVP will protest."
The clash between students unions in Delhi seems to have spread. The students activists of ABVP clashed with SFI late on Friday night at Savitribai Phule Pune University after SFI started putting up posters condemning the Ramjas episode.
Following the ruckus at Ramjas, the students' union of the Tata Institute of Social Sciences (TISS) had also come out in support of students of Delhi University. "Universities are supposed to be open space for nurturing critical thinking and academic and political deliberations among different ideologies. It is this open space the sangh parivar and its frontal organisations fear.
The TISS Students' Union condemns the ABVP's repeated attempts across the country to suppress democratic spaces and voices, and stands in solidarity with students of DU," said a statement released by the students' union.