Subramanian Swamy claims Finance Ministry sitting on details of Chidambaram's son's foreign accounts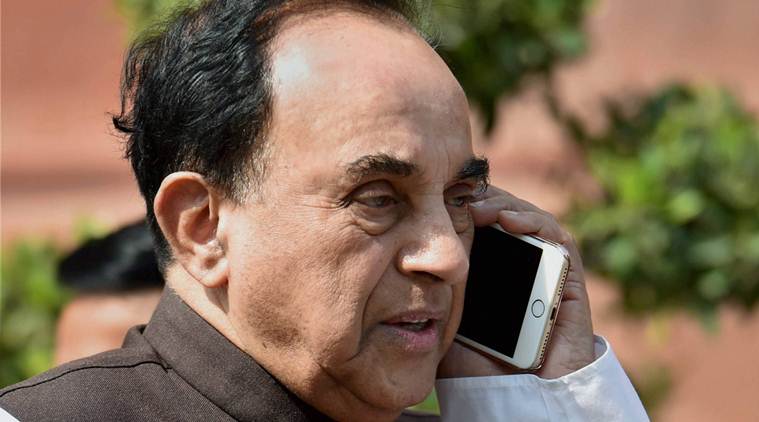 Senior BJP leader Subramanian Swamy has accused former Finance Minister P Chidambaram's son Karti and his companies' of holding 21 secret foreign bank accounts and sought Prime Minister
Narendra Modi
intervention in the matter alleging inaction from the Finance Ministry. In a press note released on Monday, Swamy accused the Finance Ministry and Income Tax officials of not acting on the inputs given about Karti and lashed out at the CBI and Enforcement Directorate for failing to take the investigation to a logical end.
"It is shocking that the CBI and the Enforcement Directorate having been provided details of 21 undeclared foreign accounts of Mr Karthi Chidambaram and of the companies that he control, have failed to proceed against Mr Karthi Chidambaram to its logical end. Mr Karthi has also refused to obey three Summon Orders of the Enforecement Directorate," said Swamy in the press release.
Swami alleged that the Income Tax department has not taken action in the matter due to the pressure exerted by "Chidambaram's friends in Finance Ministry". "These foreign bank accounts were not declared to Income Tax authorities by Karti or his parent Indian companies. These accounts are at various foreign banks like Barclays Bank in Monaco, Metro Bank in UK, Standard Chartered Bank in Singapore, OCBC in Singapore, HSBC in UK, Deutsche Bank in France, UBS in Switzerland, Wells Fargo Bank in California etc." Swamy produced details of the 21 foreign bank accounts of Karti and his companies.
"What all this demonstrates is that each time l have to seek the intervention of the Prime Minister in such matters of being thwarted in fighting against corruption. The nation already knows that the excellent measures of demoneti sation has not produced the full desired result because of ;lack of back up support of the Ministry of Finance," he added.
Karti, meanwhile, countered the allegations calling the claims outrageous. "My filings are up to date and completely in compliance with regulatory/statutory requirements," he tweeted, adding that his family's and his assets are duly reflected in their IT filings. "My companies have made all declarations as required by statutory requirements."