The Jungle Book: Animating an Oscar favourite
Pioneering technology and more than 800 computer graphics artists have made The Jungle Book the safest bet at this year's Oscars


Disney's The Jungle Book used groundbreaking technology to create a photo-real computer world with 54 animal species.

Part live-action film, part animated feature, Jon Favreau's adaptation of the classic children's book is aimed at audiences of all ages.

That was probably what made the movie a huge box office hit, earning $966m (£774m) worldwide.

But it was the bold decision to shoot the film entirely indoors that made it one of the strongest Oscar contenders this year.

The film, which has an Academy Award nomination for best visual effects, used Los Angeles sound stages to shoot the two-hour film, crafting a new approach to filmmaking.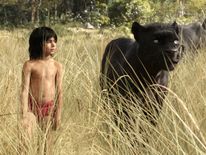 "One of the biggest creative challenges of the film for us was having talking animals that looked real - and finding that correct balance," said Peta Bailey, animation supervisor at MPC Film.
Shooting the whole thing on blue screen, Favreau and visual effects (VFX) supervisor Rob Legato hired more than 800 computer graphics artists from The Moving Picture Company (MPC) to work for a year in creating 54 different animal species.
"The voice acting gave us our first clues for the performance and which way to take it," Bailey said.
"Because that was selected by the director. So we use things like the characters physical limitations to inform the performance."
Before a single frame was shot, each scene was meticulously prepared, camera moves designed and models of terrain and trees arranged.
Character supervisor Ben Jones said: "At MPC, the way we build characters is from the ground up - we go for the anatomical approach.
"So the first thing we would do is study the anatomy of whatever creature we are building - and we have to make sure we have a skeleton that the animators can move around, that's the first section," he added.
"After that we start building the actual muscle anatomy of the character and the third act is adding fur on top."
The movie is competing for the Oscar with the likes of Marvel's Doctor Strange and Rogue One: A Star Wars Story, but is the bookies' favourite to win with 1-3 odds.
To put the jungle in The Jungle book, the artists took more than 100,000 photographs of real locations in the Indian jungle, and built a massive library of resource material that was then recreated down to the finest of detail.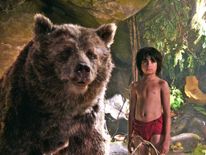 VFX supervisor Adam Valdez said: "Jon saw the opportunity to give audiences the wish fulfillment of living with animals, and for that the world and characters needed to pass the test of unblinking believability.
"We had to create an experience that was charming like the classic animated film, but intense when the story needed it."