Brock Lesnar, Goldberg, Seth Rollins, Triple H & The Undertaker on WWE Raw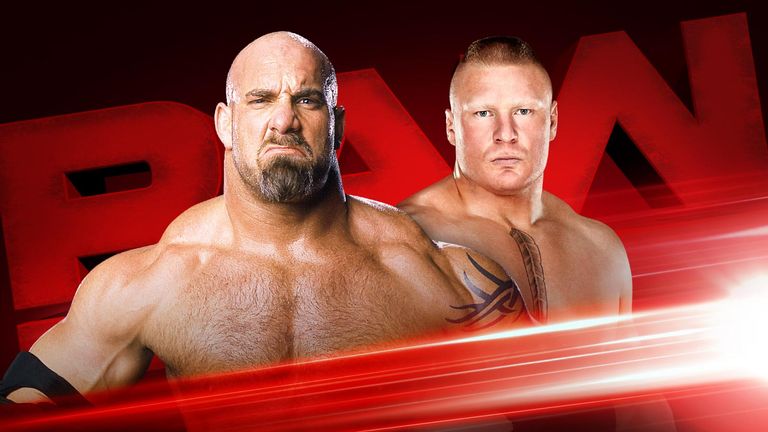 Goldberg and Brock Lesnar will be under the same roof on Monday's Raw, for the final time until WWE WrestleMania at the weekend.
The two wrestling behemoths are in Philadelphia on Monday night, live on Sky Sports from 1am, to size each other up before a colossal match-up on the WWE's biggest annual occasion.
Seth Rollins has a major decision to make on Raw - does he sign a Hold Harmless Agreement to face Triple H in a non-sanctioned bout at WrestleMania?
The repercussions could be severe. Signing the contract would mean neither Triple H nor WWE are responsible for any injuries that Rollins may sustain to his stricken knee.
Elsewhere, we are expecting The Undertaker on Monday night. Plus, after Mick Foley's dismissal last week, who will become Raw General Manager?
Watch WWE Raw on Monday night at 1am, live on Sky Sports.
WWE WrestleMania 33 will be broadcast live at midnight on Sunday, April 2 (Monday morning) on Sky Sports Box Office (channel 491) and Sky Sports HD Box Office (channel 492).
WrestleMania will cost £19.95 for viewers in the UK and €24.95 for customers in Ireland - you will be able to order the pay-per-view online, over the phone or via your Sky+ and Sky Q remotes (see below).
Repeats of the event will be available between 10am on Monday, April 3 and 8pm on Thursday, April 6, in standard definition only on Sky Sports Box Office (channel 491).
You can also book the event over the phone:
UK viewers should call
03442 410 888
, while customers in the Republic of Ireland should call
0818 220 225.
(There may be an additional charge for telephone bookings).
You will also be able to order WrestleMania via your Sky remote near the event:
Sky+:
Press the box office button on your remote, then click the sports tab followed by WWE WrestleMania.
Sky Q:
Press Home on your Sky Q remote, select TV guide, then Box Office and then WWE WrestleMania. Enter your TV Pin if prompted. (Only bookings via Sky TV remote are recordable using Sky Plus).
Sky TV residential customers only. Commercial customers contact Sky for price and to order. Sky Box Office terms apply. Cable customers should contact their local cable operator.