Introduction
The One couldn't reinstate HTC as the King of Android, so will U be able to? The HTC U Ultra sets off on a new path of design but stays on the familiar footing of high-caliber camera and audio. A Dual Display makes a surprise appearance as the stalwart headphone jack is left behind.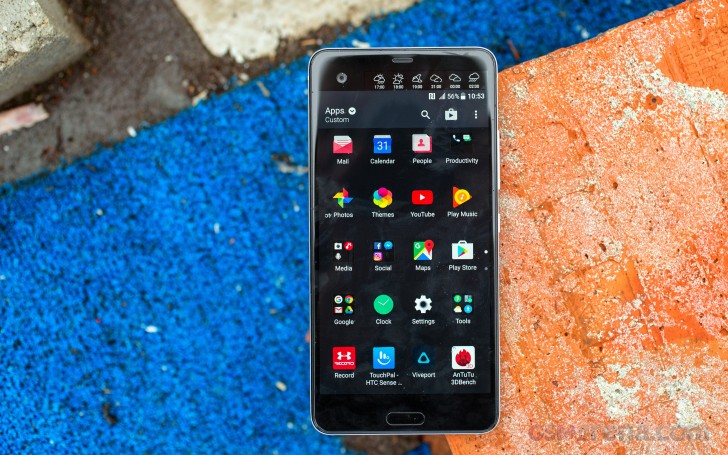 The main screen is a 5.7" Super LCD5 panel covered in Gorilla Glass 5 or, for the fancier 128GB model, Sapphire crystal glass. The supplementary screen adds 2.05" worth of space for vital notifications and reminders, but we didn't see any apps make use of the extra room for additional controls.
HTC U Ultra key features:
Glass back with a "liquid surface"
5.7" Super LCD5 with 1,440 x 2,560px resolution (513ppi)
2.05" secondary screen with 1,040 x 160px resolution (Always on)
Snapdragon 820 chipset - 4x Kryo (at 2.15GHz/1.6GHz), Adreno 530; 4GB of RAM
Android 7.0 Nougat with HTC Sense UI and Sense Companion
12MP main camera, f/1.8, OIS, Laser and Phase detection AF, dual-LED flash
2160p and 1080p videos at 30fps; 360° sound or High-Res audio (24-bit FLAC)
64GB storage, microSD slot (hybrid dual-SIM slot); 128GB version available later
LTE Cat. 11 - 600/50Mbps; Wi-Fi a/b/g/n/ac, Bluetooth 4.2, NFC, USB-C (USB 3.0, DisplayPort)
3,000mAh battery (sealed)
Main shortcomings:
More expensive than similar phones
Secondary screen is underutilized
No headphone jack
Battery capacity smaller than 10 evo's (despite Always on screen)
4K video capture capped at 6 minutes
The U Ultra is powered by a Snapdragon 821 chipset, which coupled with the QHD resolution of the main screen leads to HTC's other passion - VR. The Viveport app comes pre-installed, which currently serves to augment the HTC Vive experience but does not have VR capabilities of its own... though HTC has expressed interest in mobile VR, so we'll see how that goes.
Back to the real world, you'll be able to capture spectacular photos and videos of it thanks to the 12MP camera that we first saw on the HTC 10. It boasts a large sensor (and, as a result, large pixels), a bright aperture and high-res audio recording for the 2160p videos.
Speaking of audio, the HTC U Ultra supports both BoomSound and USonic. The first tunes the stereo speaker experience - for either music or videos - while the second personalizes the headphones experience. You will need USB-C headphones, though, preferably ones from HTC as those are the only ones (for now) to support USonic.
Display
The HTC U Ultra has two screens, the main one being a 5.7" Super LCD5 with QHD resolution (that's 1,440 x 2,560px). The secondary one has 160 x 1,040px resolution, losing 400px of horizontal resolution to make room for the selfie camera.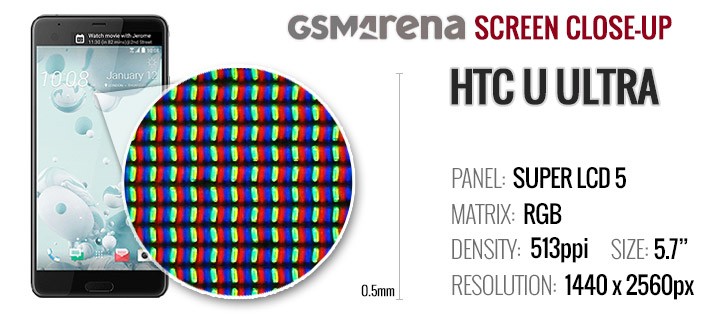 Those specs sound very similar to the LG V20 screen, but the U Ultra has a noticeably different panel.
For one, it has a big advantage in contrast ratio - thanks to the surprisingly deep blacks, it achieved over 1,800:1 while the V20 screen managed about 1,100:1 (which is still good, but not as good as the U).
HTC also allowed the screen to reach a higher maximum manual brightness of 520nits, but didn't go into overdrive once subjected to brighter light, unlike the V20 implementation.
And finally, the HTC screen had a noticeable color shift when you look it from a side angle, something the V20 screen didn't have.
Display test

100% brightness

Black, cd/m

2

White, cd/m

2

Contrast ratio

HTC U Ultra
0.284
520
1831
HTC U Ultra (max auto)
610
HTC 10 evo
0.387
525
1357
Apple iPhone 7 Plus
0.41
573
1398
Apple iPhone 7 Plus (max auto)
0.50
681
1362
Samsung Galaxy S7 edge
0.00
392
∞
Samsung Galaxy S7 edge max auto
0.00
610
∞
LG V20
0.43
475
1097
LG V20 Max auto
0.59
628
1064
Despite the higher contrast ratio, the sunlight legibility was on par with the LG screen - a very respectable score, one of the best among both LCD and AMOLED screens.
Sunlight contrast ratio
Color accuracy is not perfect - the default mode gets 6.1 average deltaE, 10.7 max. We managed to improve that reading by dragging the color temperature slider all the way to Warm (since the white balance is too cool by default). That only got us to 4.6 average and 8.8 max.
Those readings are comparable to the LG V20, but behind the leading phablets in this class. We normally don't worry about color accuracy, but we love having the option.
For late night usage, the HTC U Ultra can drop its screen all the way down to 5nits, and the Settings menu offers a blue light filter that you can toggle on in the late hours of the day when you'd probably prefer the warmer hues.
The second screen can be set to Always on or to be active only when the main screen is on (or the other way around - only when the main screen is off). You don't get much more settings for it; there's no separate brightness slider or a way to schedule the screen to switch off at night.
Connectivity
The HTC U Ultra is available only as a Dual SIM phone with a hybrid card slot - meaning you can put in a microSD card only if you use a single SIM card. A pretty fair trade-off, we think, given that you get 64GB as base storage and can go up to 128GB if you need both dual SIM and plenty of storage.
Anyway, you're looking at 600Mbps of theoretical download speeds thanks to LTE Cat. 11 with 3 Carrier Aggregation. Both VoLTE and Wi-Fi calling are supported, which offer higher quality audio and better reception respectively. Note that there's no CDMA support.
The Wi-Fi connectivity itself covers a/b/g/n/ac and there's Bluetooth 4.2. NFC is available for Android Pay and other uses.
The sole wired connection is the USB-C port, but it is highly capable. It is wired for full USB 3.1 speed and supports DisplayPort connections, meaning you can have TV out with the right adapter.
This USB-C port is also responsible for audio output, good thing that HTC includes a decent pair of buds in the box.
Battery life
The HTC U Ultra comes with a 3,000mAh battery that is sealed inside the body. QuickCharge 3.0 fills up the battery fast, but you may need to do it more often than you would like. The smaller (and cheaper) HTC 10 evo has a bigger battery, 3,200mAh. Even the iPhone 7 Plus is not far behind at 2,900mAh.
The U Ultra does have a more efficient chipset than the 10 evo - Snapdragon 821 features many refinements in power efficiency compared to its predecessors. Still, in a body this size we expected more.
The phone starts off well, we got an 81-hour Endurance rating with the secondary screen off. There are several ways to activate it with movement or tapping so that you may be okay without the Always-On functionality. Still, it's a feature that several flagships offer, and if you leave it on, you're looking at a lower 66-hour Endurance. That's more than the Galaxy S7 edge gets with Always on enabled, so it's a good job by HTC!
The HTC U Ultra should last up to 26 hours in a 3G call according to official numbers, we measured 23 hours, which is still respectable.
Both web browsing and video playback deplete the battery in around 8 hours, give or take half an hour, which is not as ideal. The good news is that the LG V20 gets similar times, actually an hour in web browsing. A Galaxy S7 edge or iPhone 7 Plus will go for hours more, however.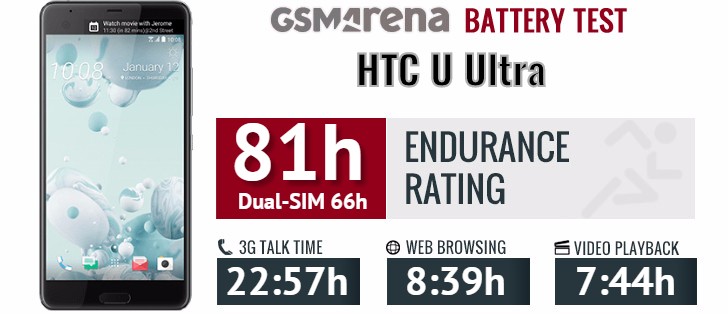 Overall, the U Ultra battery lasted longer than we thought it would - after all, you don't have to look far to find a phablet with a larger battery. Still, HTC made it work, and that's all that matters.
Camera
In our HTC 10 review, we dubbed this camera "UltraPixel 2.0." It's not called that officially (though the selfie cam does have an UltraPixel mode), but the return to large pixels instead of chasing high MP numbers was right on the money.
The pixels aren't quite 2µm big like in the original, but at 1.55µ they still have loads of light-collecting power. The bright f/1.8 aperture over the large 1/2.3" sensor further enhances the camera's performance.
In its tool bag are also optical image stabilization, plus combo autofocus - Laser and Phase Detection. The dual-LED flash has two-tone LEDs.
We complained that the camera UI doesn't have the best controls since some simple things require a lot of tapping. This hasn't changed, to toggle from 1080p video back to 2160p, for example, you have to tap through all options, including "MMS" (does anybody still use those?) There's no way to switch directly to the resolution you want, not for video, not for photos.
Pro mode is available with all the manual controls you expect - focus, shutter speed, ISO, exposure compensation and white balance. There are no "aperture priority" or "shutter priority" modes here, but some easier to understand modes. Macro only lets you adjust the focus and handles the rest automatically, sport mode lets you touch only the shutter speed, night mode gives you ISO and shutter speed control and does the rest itself.
RAW shooting is available in Pro mode (in fact, it's RAW + JPEG). As we mentioned in the previous chapter, RAW editing on the phone itself is limited to auto enhancement.
Zoe lives on, a camera mode that debuted with the HTC One way back when. In Zoe mode, the HTC U Ultra will take your full resolution photo, but also record a 3 second video (at 1080p). We like this because it gives context to the photo, memories that will be left out of a still image.
Then there's the Hyperlapse mode - it shoots time-lapse video with impressive image stabilization. Yes, the phone has OIS, but Hyperlapse makes the video seem like you shot it on rails.
We liked this camera on the HTC 10 and we still like it now. Noise is kept low and photos exude quality. They are rich in detail and their colors are accurate. However, pixel peepers will notice that the noise reduction gets overwhelmed in some of the trickier areas and it smudges detail.
The above shots were taken without HDR, so we toggled it on for the next batch.
The HTC 10 evo has a 16MP camera, but that advantage in pixel count doesn't translate into an advantage in image quality. Here's how those two compare in our Photo quality comparison test.
The Panorama mode proved a tad disappointing - the stitching is mostly fine, we were just hoping for a higher resolution.
The selfie camera is interesting because it has two very different modes. By default, it shoots 16MP photos, a higher resolution than the main camera. Those turn out fairly sharp once you find the right focus distance (unlike the HTC 10, the selfie cam here does not have autofocus).
In the dark, you may want to switch over to UltraPixel mode. It uses binning to create a 4MP image, but it promises 4x better light sensitivity. Or you may not - in our testing, the camera didn't do much to improve image quality, but introduced processing artifacts. Some areas look pixelated, which isn't what you want in a low resolution 4MP image.
Video camera
The video camera gives you a choice of 2160p and 1080p videos, of 360° and High-Res sound. There's no 60fps mode, which is a bit of a bummer.
360° audio is captured at fairly high quality - 192Kbps AAC at 48kHz. It combines sound from all four mics that are speckled around the phone to create an immersive experience. We do wish HTC put some effort into wind noise reduction, though.
If you want the best sound quality, you need to switch to High-Res. It switches the codec to lossless FLAC and records at 96kHz and 24 bits. You can definitely hear the difference, for best effect download our samples since YouTube tends to mangle audio.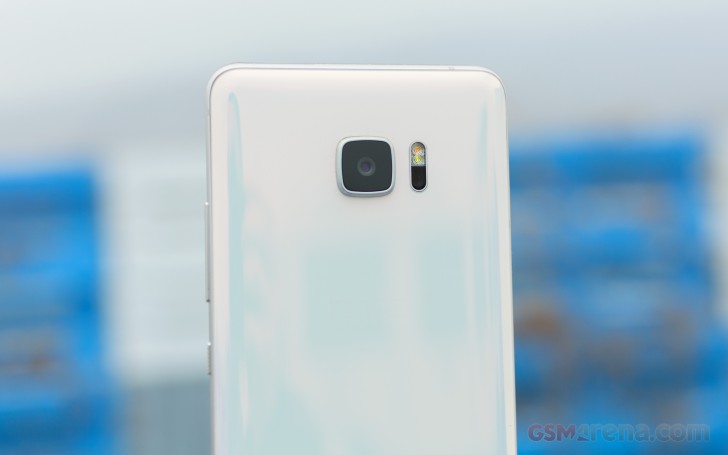 Anyway, this chapter is about the Video camera, let's get back to that! Video is captured at 54Mbps for 2160p resolution and 20Mbps for 1080p, in both cases with the AVC/H.264 codec. Whether you get an MP4 or MKV file at the end depends on which audio mode you used, but MKV is well established now and we had no issues with it.
Note that 2160p videos are capped to 6 minutes long. We can't imagine why, the S810-powered HTC 10 evo did it to prevent the chipset from overheating. The Snapdragon 821 should have absolutely no issue shooting longer videos. Even if you never need longer than 6 minutes, it's still a silly limitation on a phone in the top price segment.
Those 2160p videos are sharp and rich in detail, but the camcorder doesn't manage its bitrate well and we see the occasional "pulse" of compression artifacts. Other than that, the videos are worthy of a flagship.
1080p videos have a narrower field of view, meaning they fit less in the frame. They get the best out of the available resolution, but that pesky compression pulse is still present.
Again, we pit the HTC U Ultra against the HTC 10 evo, which also does 2160p videos and carries a lower price tag.