Ram Gopal Varma calls Tiger Shroff 'transgender', Vidyut Jammwal makes his conversation public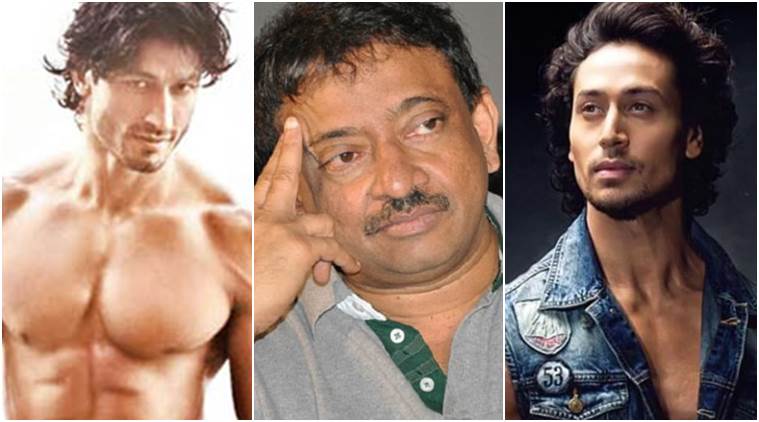 It seems like Ram Gopal Varma's obsession with Tiger Shroff has continued. After tagging the Baaghi actor as Urmila Matondkar and Bikini babe among the present lot of actors, in a conversation with Vidyut Jammwal over phone, he called Tiger a 'transgender.'
For people who wonder why Vidyut called up RGV, the Sarkar director has been tweeting about a face-off between Vidyut and Tiger and how the latter would break bones of the former. So, Vidyut telephoned him to ask why he was doing all this, making a comparison between him and the Baaghi actor. To this, RGV replied that he has nothing against Vidyut and goes on to call Tiger with different names – woman, transgender and a lot more.
Vidyut recorded the call and shared it on his SoundCloud account. In the audio, we can hear Vidyut repeatedly asking about why RGV is comparisons between him and Tiger but the director refuses to answer the question and rather talk about Vidyut's manliness against Tiger Shroff.
As soon as the director got to know that Vidyut has posted his entire conversation on Twitter, he wrote, "I want to thank @VidyutJammwal for the extraordinary expose not to the people about me,but for exposing me to myself about myself. I truly thank @VidyutJammwal for my changeover nd I want to apologise to Bruce Lee for not understanding him the way Vidyut made me realise."
It all started with a series of tweets in which Ram Gopal Varma wrote, "As a martial arts fan am really curious about who's better fighter btwn @iTIGERSHROFF and @VidyutJammwal ..I wish they will fight and prove. I personally think @iTIGERSHROFF is far better and he should challenge @VidyutJammwal for a real fight and prove to everyone that he's best. I am super sure @VidyutJammwal will run away if @iTIGERSHROFF challenges him for a hand to hand kick to kick fight in real. My bet is on @iTIGERSHROFF and am sure he will prove he's Bruce Lee ka baap by destroying @VidyutJammwal in an open challenge real fight."
Listen to what Ram Gopal has said about Vidyut Jammwal and Tiger Shroff:
He continued, "If @iTIGERSHROFF openly challenges @VidyutJammwal for a direct real fight @VidyutJammwal will runaway to the Shaolin Temple. As a @iTIGERSHROFF fan am so waiting for him to throw an open challenge for a real fight to that b s t d e f x s n y @VidyutJammwal. In a real street fight I will bet everything on @iTIGERSHROFF becos I believe he will finish off @VidyutJammwal with just one single punch. Am super sure that @VidyutJammwal will never have the guts to take on @iTIGERSHROFF 's challenge."
And when RGV started feeling a bit sober, he realised what he had done and was quick enough to cover-up. "Though it was done in my usual fun way,I apologise to both @VidyutJammwal and @iTIGERSHROFF for the irritation caused." By the way, his tweets have mention of
Amitabh Bachchan
too.
The director credits Senior Bachchan for getting stability in his life. "For all those who are disbelieving my vow,since I don't believe in God,I hearby swear on my mother,Steven Spielberg and @SrBachchan. Great Bruce Lee evolved me and @VidyutJammwal de evolved me nd I thank @SrBachchan for being stabilising factor..I owe my existence to him."
This is not the first time that Ramu has spoken such derogatory words for Tiger. Earlier, while the star and his father Jackie Shroff remained silent about the entire issue, his mother Ayesha Shroff had expressed her vain over RGV's comments. While Vidyut has already taken the required action, we wonder how Tiger will respond to this entire issue this time.